Vision
Build a globally preferred and admired development house for online training solutions and multimedia services, which collaborates with clients to help them realize their business objectives.



Mission
Help customers in attaining their business objectives by providing the best-of-breed solutions while safeguarding the interests of our employees, vendors and the environment.



Core Values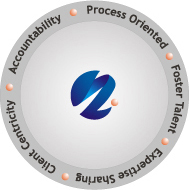 Client Centricity:
We believe in building a long-lasting relationship with our clients. We give utmost priority to the delight of our clients and believe in being flexible enough to accommodate their needs.
Accountability:
We take complete responsibility for every task we take up and believe in being accountable to the outputs produced out of every project.
Process Oriented:
We are guided by a set of proven processes and deliver outputs which are in accordance with global standards.
Foster Talent:
We respect the talent and the competencies of our employees and we put in continuous initiatives to foster the same.
Expertise Sharing:
We believe in sharing our expertise and innovative ideas with the stakeholders of our organization, be it our clients, our employees, or the environment.