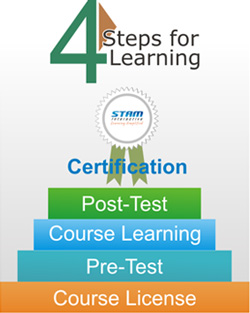 Welcome to STAM Online Training Courses, a world class repository of courses on security technology.

The subject of Security is highly technical and is made up of many different and emerging technologies. Each of these technologies is complex and is undergoing continuous change. This makes it difficult for anyone in the industry to keep up with the latest trends. If you look around the industry there are limited options for people to gain this knowledge. STAM understands this and has designed and developed a wide range of Online Training Courses on Security Technology, to meet industry requirements.


Online Course Catalog

The STAM online courses are a proven resource - over 15,000 students from 60 countries have completed these courses.  
CCTV + Digital Video
IP Networking
Access Control
Biometrics Technology
Fiber Optics
Basic Electricity
Wireless Technology

For Whom
The courses are suitable for everyone in the security industry. They are available 24/7, making STAM the most cost effective solution for anyone who wants to improve knowledge or skills on the latest security technology - an individual or everyone in the company.  
End Users
Installers/Dealers and System Integrators
Sales, Suppliers and Consultants
Technical and Non-Technical people
Existing and New staff

Continuing Education
STAM online courses have been approved for Continuing Education (CE) by different security associations and government bodies. Find below a partial list  
Approved by ASIS for CPP, PSP and PCI Recertification
Approved by BICSI for Continuing Education Credit
Approved by ALOA for PRP Recertification
Approved by New Jersey, Texas and other US states for Continuing Education Credit
Approved by Construction Industry Training Board, Northern Ireland
Compliant with Electronic Security Association (ESA) for Continuing Education credits.

Resources
Besides the information about the online courses, the web pages have many other tools and resources; please take the time to explore them.
STAM Knowledge Testing Center
CCTV Calculators
Forms
Articles
CCTV Glossary