Elementary School 3D Mono Animations
It's exciting to note that We also offer 3D Mono Science and Math content designed for even Elementary School students! Our modules help make learning an even more exciting and meaningful experience for Elementary School students. The convenience of our 3D Mono animations is that they provide a 3D simulation without requiring additional 3D equipment.

Install these modules in the school network and 25 computers in the network can view the content at any given time. A perfect teaching tool that can reinforce knowledge learned through lectures and textbooks in an interactive and fun way.

Each topic comes with multiple learning resources - animated videos, simulations, interactive, quiz, images, text, web-links, glossary and key-terms.
Sample Demos
Click the following link and you will see a wide range of animations in the You Tube Channel for Designmate. We are sure you will be amazed by quality and depth of the animations
Ask for a Web Demo Today
Contact us for a demo. In the demo, we will show you samples and answer any questions you may have. The demo  takes about 30 minutes.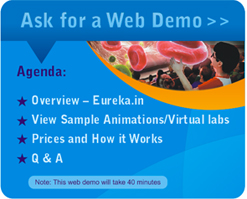 Topic Listing:
We have 459 3D Mono Science and Math animations and modules for elementary school teachers to use as a teaching tool for their students. Here is a summary of the topics covered for elementary school Science and Math. Please contact STAM and we can send you a detailed listing of all the topics covered by these high-resolution animations.
Science Topics for Elementary School
| | | |
| --- | --- | --- |
| Subject | Total Topic | Total Duration |
| Science as Inquiry Standard | 14 | 00.48.48 |
| Physical Science | 117 | 05.41.01 |
| Life Science | 48 | 01.55.10 |
| Earth and Space Science | 70 | 04.21.36 |
| Science and Technology | 15 | 00.57.00 |
| Science in Personal and Social Prespectives Standard | 25 | 01.29.31 |
| Add-On Categories | 32 | 01.41.32 |
| Total | 321 | 16.54.38 |
Math topics for Elementary School
| | | |
| --- | --- | --- |
| Subject | Total Topic | Total Duration |
| Grade K Over view | 8 | 00.06.00 |
| Grade 1 | 20 | 00.27.00 |
| Grade 2 | 15 | 00.25.06 |
| Grade 3 | 48 | 01.20.36 |
| Grade 4 | 41 | 01.14.55 |
| Add-On Categories | 6 | 00.07.00 |
| Total | 138 | 03.40.37 |
Contact Us:

Do not hesitate to contact us if you like to schedule a



demo
view a full topic listing
price list
or have any other questions.




We look forward to assisting you. Call 609-750-9827 or email info@staminteractive.com